Westpomeranian voivodship – Investors Assistance Center – Settling into Szczecin
1.  Gradually settling into Szczecin
BIC Electric story starts in the previous century, features two core characters and a host of other important people who are impossible to list here. It continues into the 21st century with only a few hiccups, but quite a few fork-offs along the way. It is a story in which BIC Electric slowly but surely sinks into the business landscape of Szczecin. West Pomerania has always been one of the key locations for BIC, but it has gradually become the center of our operations and BIC now operates almost exclusively from Szczecin.
2. Who is BIC Electric
BIC is an international company providing technical services in electrical and mechanical installation and commissioning in a number of business areas, worldwide. The company has customers in the industrial automation business, in construction industry as well as in offshore wind power and oil & gas. Some of its best-known customers are Bilfinger Mars Offshore (now ST3) and Maersk Oil&Gas. For the last couple of years, the company has been growing steadily, expanding its customer base and geographical reach to such remote locations as Hong Kong, South Africa or Azerbaijan. The customers, or partners, as the CEO prefers to refer to them, use BIC's technical teams with carefully selected competences who perform a job that the customers are not always willing, or able to do, often at short notice. This way, BIC Electric provides their business partners with an additional level of scalability: when things get busy, or go wrong and the deadline is pressing, they can rely on BIC's 150 technicians to help get the work done in high quality. This claim is backed up by the numerous references on their website.
3. How it started
The idea for selling the time and the technical competences of employees first occurred to Jens-Christian Møller, the CEO, almost 20 years ago, in 1997 when he was the managing director of a Danish company – Demex Electric – a manufacturer of electrical distribution panels and MCC panels. Back then, Demex was struggling with low profitability of production and shortage of qualified staff in Denmark and intended to offshore that activity. After a feasibility study, Jens-Christian Møller, assisted by his then co-worker, and today BIC Electric's CFO, Łucja Kalkstein, finally moved the production and the company started in Szczecin, in Goleniowska Street, coming back into the profit zone. In 2004 Demex was sold to KK Electronic who took over the production in Dąbie, later changed the name to KK Wind Solutions and split out the automation department under the brand of Elogic. The sale spurred Jens-Christian Møller to start his own company in Poland but without investing heavily in machinery and facility but into staff and competences instead. In 2004 BIC Electric Sp. z o.o. was established and soon started providing services, primarily for the construction industry in Denmark, growing from 0 employees to about 60 in 2009. Then came the year of the global financial crisis – the only year when BIC's growth was on hold. To weather the storm, BIC had to rethink its business model and increase the scope of services to also include manufacturing industry, automation, and later oil & gas and wind power. To achieve that, the company made significant investments in competences, certification and quality management systems and set up regional offices is Denmark and in Norway. This approach proved to be a success and the growth continues until today.
4. Side business
Over the years of running business in Poland, BIC Electric also explored other market opportunities: switchgear production, business relocation consultancy services or construction of log houses. They, however, were not complete successes and today BIC is again true to the original idea of providing electrical and mechanical services on a B2B market.
5. Advantages of Szczecin
In Jens-Christian's opinion, Szczecin has serious advantages not only over other Polish cities, but also over many foreign places. Probably the biggest is the geographical location which allows the European businesses to keep the existing supply chains and maintain the relationships with the suppliers, especially those based in Europe. Another strength is easy access to highly educated technical staff and their eagerness to learn further and provide high quality work. Finally, the cultural similarity between the European nations is something the Asian countries can never compete with.
6. The present and the future in Szczecin
Today, BIC Electric has a strong presence in the Western Pomerania: they are initiators or important participants of local business and leisure events, such as North and Baltic Sea Offshore Wind B2B network, or the Rock Hard Ride Free heavy-metal festival in Goleniów. The managers are also members of Chambers of Commerce: Polish -Danish, Norwegian-Polish or Scandinavian-Polish. Their commitment to Poland can also be seen in the regular support to Polska Akcja Humanitarna or the donations to Animal Shelter in Szczecin.
The company's plans for the coming 3-4 years are to concentrate the operations in Poland to run them even more efficiently and to share the knowledge even better. BIC also plans to grow to 300 people working at projects. As always, there are some ideas for spin-off businesses, who knows how they will develop. For everybody at BIC, it is more interesting to work in a growing company than in one that is already big but stagnant, and the future for BIC Electric certainly looks exciting.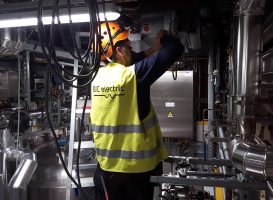 Investor's Assistance Center of the Westpomeranian Voivodship 2016.11.18
Download PDF