Sign of the times – digital audit. Been there, done that – with success!
"It is about being a serious partner." Eryk has recently obtained the new ISO 45001 certification, an international benchmark for occupational health and safety standards (replacing OHSAS 18001). It also fits in well with our other ISO standards that we are already compliant with. This time the certification process was very different!
If you are curious, what the internal and external implications of the ISO 45001 certification are, here is the interview with our HSEQ team.
Jacek Kukuła, our H&S Specialist, has been with Eryk for the last 3,5 years and has over 14 years of experience as a H&S advisor. Natalia Janowska, the other key member of this HSEQ duo, is our Quality & Lean Manager. She is responsible for all the HSEQ procedures, audits and has been with us for the last 3 years. Combined, they are a highly experienced and competent team when it comes to HSEQ issues. As you can see on the picture, both love sport: Natalia: kite- surfing, Jacek: pumping iron 🙂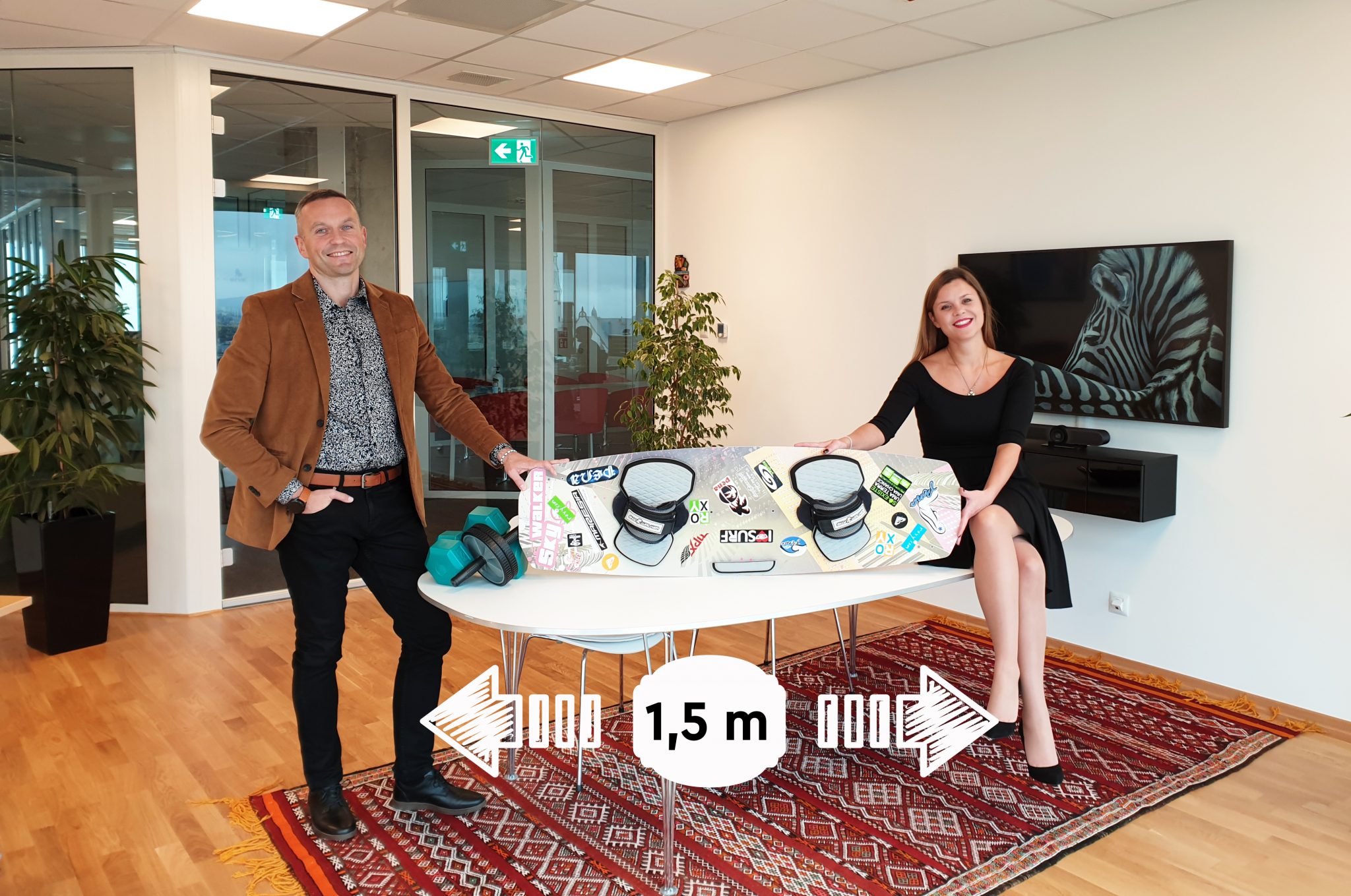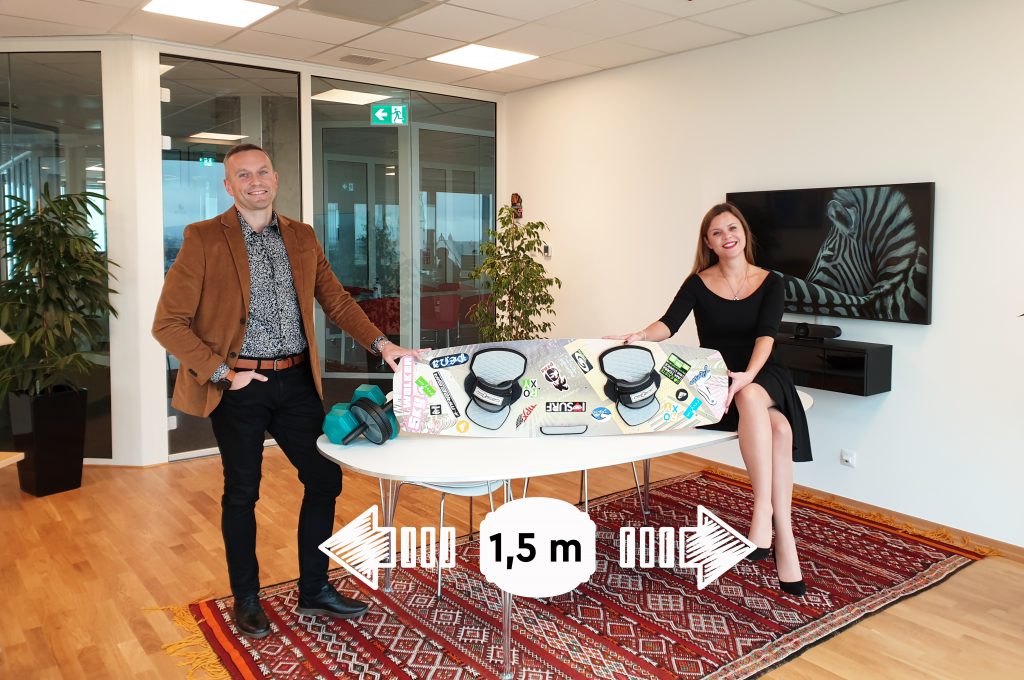 So, what does the new ISO certification exactly mean to us and our partners??
In a nutshell, more internal involvement of our employees, more openness to suggestions, feedback, consulting. It also means – for us and for external parties, such as customers, that we are mature in this area, that we have a great awareness, that we monitor the statistics, make our employees aware of the H&S issues etc. All in all, it is about being a serious partner – Natalia says.
To be a respected company you need to establish, maintain and keep improving standards, it is a MUST nowadays. … And the audit gives the company an external perspective on H&S issues, one that the company might not have: Sometimes you can miss things when you sit inside – Jacek adds.
How do you evaluate Eryk's approach to H&S?
The level of H&S awareness and maturity is very high, but there is nothing that cannot be improved – says Natalia. Eryk's TOP Management is very much involved and that helps!
Jacek adds We see that we can still get better at many things;, it is never easy to translate the theory into reality, but the audit gives us more motivation to achieve that.
How do you intend to do it Natalia?
To get there, first of all we all need to work hard: educate, inspect, motivate, enforce the procedures etc. We introduce many ideas to our business life, just like we did this spring with an health and safety meeting bringing together a select group dealing with the project execution: our Key Account Department and Chief Executives plus us of course- the HSEQ team: Jacek and myself 😊
Current times call for a digital audit
This time the audit was done digitally, which raised attention and curiosity of many of our white collars. We too were interested in how this process would compare to previous audits. It turns out that that it was neither harder nor easier than before, but definitely it was different this year.
It was a challenge, but it is the right format for the current reality: it is SAFE! Both us and the auditors discovered that a lot of issues, including certification, can be performed virtually – says Natalia and Jacek backs her up: This formula is totally different than before, but it has a lot of advantages. As Natalia says – it suits the times and it is safe. However, it is obvious that not everything can be demonstrated using only the digital tools and of course, sometimes things act up – the connection or devices. But we still did it! – both agreeing.
Digital audit a sustainable solution for the future?
From a sustainability view, virtual audits save a lot of resources, and both Jacek and Natalia think that such audits might be a solution, or at least a part of the solution, for future audits.
Everything is doable… From the company's perspective: it is much more cost-effective. For both parties: more time-effective as you don't need to travel so much. And finally, it is environment friendly 😊 – Natalia says.
Jacek is more hesitant when it comes to digital audits out at the sites, but at the same time he sees potential in the digital approach, especially for international companies. The digital audit is and always will be an easier solution when it goes about logistics – he says.
Recipe for keeping calm in Covid-times
Since this spring we are all having to deal with a new pandemic reality and our discussion turned to the current Covid-19 situation. As already experienced at the recent audit, Eryk has adjusted to the current reality quite well. All our work procedures and habits had to be revised to reduce the risk of infections in the company. One of the measures is testing – our technicians and other employees if there is a need. As Natalia says: If we have the knowledge, we can prevent infections. And if we prevent them, we can feel safe. And we want people at Eryk to feel safe.
Jacek also stresses that we are entering a more difficult and a more dangerous period, where there most probably will not be any lockdowns. It is important that we all work with much higher awareness and we help each other feel safe.
Easier said than done? We asked Natalia and Jacek for their best recipe to be on top of things, stay calm and not go crazy?
First and foremost: keep the work-life balance- says Jacek. We all know what it means: Don't get paranoid, don't wear a plastic stretch foil and isolate yourself at home, but stay calm and live your life. We need to adjust to a new reality without panicking. But also without ignoring it. We cannot disregard the statistics, information and warnings coming from authorities.
Natalia follows up:
We must remember the mantra of 3 things: disinfection, distance, mask. We need to believe, that if those things are done, the situation will get better.
Ending the interview Natalia says: … we are all free people and we can believe in anything we want. But what first and foremost what we have to have in mind is our social responsibility! We should remember that we still know too little about coronavirus and that all the increasing numbers and statistics show us how big is its scale. The way we act may have an impact on other people health or even life. This is the FACT. Incontestable, as the one that the Earth is not flat. 😉
Thank you Natalia and Jacek for your time and all the efforts! 😊
---
Curious about our certificates and our HSEQ ?
click here