Łukasz Sikora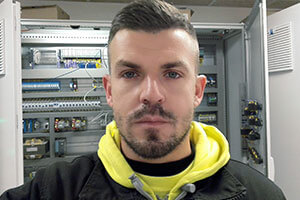 Łukasz Sikora has recently got a promotion to Team Manager. Although he is very busy with his current project in Germany, he found some time in his schedule. So, we gathered some information about him and reflections on his time at Eryk.
Łukasz has already been with us for over 4 years and, as he puts it, time flies. He joined us with over 10 years of prior experience within the electrical industry. It was his colleague who introduced him to the company. As a result, he decided to give it a try. It was all worth it! – he says. 😊
I like the most when there is a chance to see or learn something new. I am currently on a project at an automotive factory in Munich. We are building two-car driving simulators. It is the most exciting project that has happened to me so far.
What do you value the most as a Team Manager and as a colleague?
What I value most, is the willingness to work, professionalism, ambition and responsibility. Good manners and good camaraderie are also important to me. I like when people ask questions whenever they are unsure of something. It is not a bad thing. I am also still learning new things and often seek advice from more experienced colleagues or a supervisor from the customer´s side.
What are the most challenging projects?
For me, it is the large projects which are the most demanding when I need to manage a large team of employees and to cooperate with other teams. On such projects, it often turns out that, unfortunately, not everyone understands the role of the Team Leader and that we are all rowing the same boat. Sometimes you must have strong nerves, do your job, and not be provoked.
What motivates you?
Customer satisfaction and a good word from the key account department 😉 I am happy to see when "work is going well" and when the team is working well together. Salary, of course, is also a good motivation, because it allows me to realize my private goals and make my dreams come true 😉 The quality of accommodation and extended stays in one place are also very important. Not only for me, but also for other technicians.
We see that the pandemic has a big impact on our work and life. All our departments are doing their best to run their operations smoothly and keep on track on any changes that may impact the projects. We asked Łukasz how he and his team are dealing with Covid-19 on site.
The situation with COVID does not affect our work on site dramatically. We have disinfectant liquids, gloves and masks. Of course, we keep our distance and follow the hygiene rules. We drive a maximum of two people in the car and try to limit the shopping trips to a minimum.
Working on projects around the world, travelling and visiting new countries is a natural part of the job. This is, of course, no exception for Łukasz, who has visited such countries as Denmark, Sweden, Finland, the Netherlands, Germany, Czechia, Italy and even China. For Łukasz exploring the world is a big perk of the job. He especially likes the places where there are a lot of exciting things and places to see.
In my spare time, I always plan trips, sightseeing or walking 😊 After work, if I am not too tired, I try to take care of my physical condition. If it is possible, I take weights with me and work out. Photography is my other hobby. I usually take my camera on Sundays and take pictures outdoors. 😊